Shop
You can buy hoodies, t-shirts, bags, face-masks and other items online from our gift shop.
Stoolball equipment can be ordered direct from Stoolball England using the form below.
We'll advise you of delivery costs for equipment orders when you contact us, or sometimes you can collect it in person.
Photos are for illustration only and may not reflect exactly the product you receive.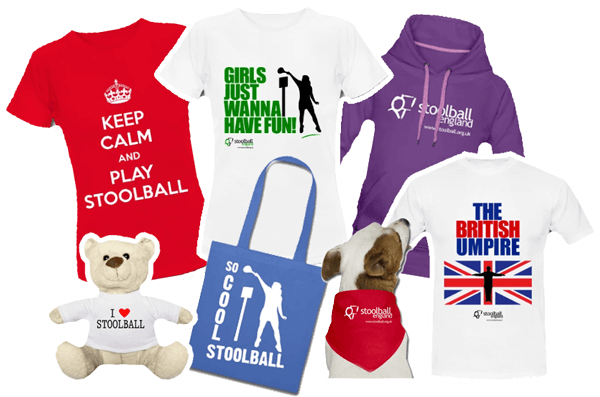 Visit our gift shop
Gray-Nicolls stoolball bat

Choice of weights from 397g (14oz) to 680g (24oz).

£50

Aresson junior bat

£15

Bat cover

Padded interior to protect your bat. Made by Gray-Nicolls.

£5

Stoolball

Orange/pink/yellow hard balls are also available for £6

£7

Plastic Air Balls

Available in orange and pink

£3

Softy junior/indoor balls

Perfect for indoor or children's stoolball

£5

Bat grip

Made of rubber in a choice of colours, to protect your bat handle

£5

Wooden stoolball wickets

A pair of wickets with metal bases and six fixing pins

£150

Metal stoolball wickets

£160

Rule book

A handy reference for players and umpires

£2

Large scorebook

For all your league, cup and friendly matches

£5

Small scorebook

A smaller format for tournaments

£3

Coaching manual

Practice exercises and tips on how to bat, bowl and field effectively. Perfect for PE.

£8.50

Polo shirt

White polo shirt featuring the Stoolball England logo

£10

Zip-up tops

£18
How to buy
Please complete this form with your details and what you want to buy, and we will contact you to complete your purchase.